Conference puts spotlight onto the environment
Next week the UK hosts the UN's Climate Change Conference in Glasgow – an event which is shining a spotlight on the urgent need to protect our environment and tackle climate change.
Known as COP26 (Conference of the Parties), global leaders will be meeting with the aim of accelerating climate action. Our local MPs Alok Sharma and Laura Farris will be attending and participating in the conference.
Back in 2019 we announced a climate emergency and since then have been working hard to act on this and make West Berkshire a greener place to live, work and learn. Over the next few weeks we'll be telling you more about the work we're doing in this area. You can also visit our Environment webpages to read our Environment Strategy, see our targets and follow our progress.
We'll also be keeping up to date with progress at COP26 and are looking forward to the outcomes.
Council Leader Lynne Doherty and our Executive Member for Environment, Councillor Steve Ardagh-Walter, will be discussing our environmental work and answering your questions on Monday.
You will have an opportunity to learn more about the work we've already started as well as our aims and ambitions going forward.
Join us on our YouTube channel at 5pm where you can watch along and submit questions during the session.
Fang-tastic pumpkin recipes
Did you know a terrifying 14.5 million pumpkins are expected to be left uneaten this Halloween? Pumpkins aren't just for carving, the flesh can also be reused in many fang-tastic recipes for the whole family to tuck into! For recipe inspiration and more info on how to reduce your waste, take a look here.
---
'Christmas in Newbury' campaign launches
A new 'Christmas in Newbury' campaign has been launched by the Newbury Business Improvement District (BID) to encourage visitors to the town this winter.
We're proud to be supporting the campaign and have contributed £38,000 as part of our Welcome Back Fund supporting our high streets to recover from the pandemic.
The Christmas campaign outlines everything you can do in Newbury this festive season, including great activities like Newbury BID's three-day Victorian Christmas Fayre, Christmas Lights Switch-On Festival, and Christmas events delivered by a range of local organisations, such as the Corn Exchange. You can see the full list of events happening in Newbury this Christmas here on the 12DaysofNewbury.com website.
The highlight of the campaign is Newbury's first-ever TV advert, which is now showing on Sky TV and Virgin Media to households within 90 minutes of the town.
---
Support for vulnerable households now available through the new Household Support Fund
We have been awarded funding of £695,000 for the new Household Support Fund which will support households across West Berkshire who need it most this winter to meet daily needs such as utilities, food and other essential costs.
The Household Support Fund, which is funded by the Department for Work and Pensions (DWP), will:
Provide a fund of £450k to support those most in need with household costs such as energy bills, food, clothing and housing costs in exceptional circumstances.
Help families over the Christmas Period by providing Free School Meals (FSM) vouchers for the 16 days of holidays, recognising the additional financial pressure the festive period can bring.
To access this additional financial support, an application form with specific criteria can be found by clicking on the button below.
---
Residents' views sought in new survey
Households across West Berkshire are being invited to take part in our latest residents' survey.
The survey is being conducted to understand residents' views about the local area and the services we provide. We'll be using the information gathered through the survey to help us make decisions about the services we provide.
Five thousand households have been randomly chosen to take part in the survey and have received a copy of the survey through the post. It will take around 10-15 minutes to complete – and we're asking residents to complete it as fully as possible to ensure views from a diverse range of residents are reflected in the results.
Encouraging residents to take part, Leader of West Berkshire Council, Councillor Lynne Doherty said:
"As a Council our residents are at the heart of the services we provide. We regularly consult with residents and service users on specific issues and services, and this survey will help us to understand how people think we're doing more broadly. I hope everyone who receives a survey will take the time to complete it – your views really do count."
Anyone who receives a survey and is unsure if it's genuine can contact the Council's consultation team by email at RCPTeam@westberks.gov.uk.
Last chance to nominate your Community Champion
Time is running out to nominate your Community Champions – with the deadline for entries this Monday (1 November).
The Community Champion Awards are an opportunity to say thank you to people who have done something special for their local community and will honour those individuals and community groups who have gone above and beyond to support residents throughout West Berkshire this year.
---
Webinar: Could Kickstart help your business?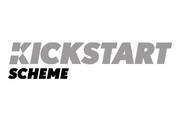 We're hosting a free webinar at 4:00pm on Thursday 18 November to offer detailed advice to local businesses who would like to apply for the Kickstart scheme.
Kickstart is a Government scheme which offers a grant to pay the wages of a young person if you can create a 6 month job placement for them in your business.
New applications must be submitted by 17 December, but you have until 31 March 2022 to recruit through the scheme.
After submitting a number of successful bids ourselves and guiding local businesses through the process, we wanted to offer a structured session where we cover:
Scheme requirements and eligibility criteria
The questions you will be asked when you apply
How to answer effectively to be approved first-time
Common pitfalls and how to avoid them.
All local businesses and organisations are welcome to come along, so please register below if you are interested. We can also follow up with one-to-one advice with attendees.
We have recruited 13 people within the Council using Kickstart, along with a further 12 externally, and we could not recommend the scheme enough for small businesses who could use extra capacity to expand and grow.
---
Get out in autumn!
Get out and immerse yourself in the autumn colours this October half term! Our local Berkshire, Buckinghamshire, and Oxfordshire Wildlife Trust (BBOWT) has lots of fantastic open spaces close to your front door for you to explore. Check out their upcoming events here as well as their guides to going green here.
Why not discover some of our great public right of ways in West Berkshire? You can find walking, cycling, and horse riding routes and maps here.
Wherever you explore, tag us in your photos on Facebook, Twitter, and Instagram!
If you would like to get more involved in our local wildlife, BBOWT are on the lookout for volunteers to help with next year's wildlife surveys starting next May. Full training will be included. Further information will be available closer to the time but please register your interest with Simon: simon_c@bbowt.org.uk.
Whether you're a resident of a Parish in West Berkshire or a member of a Parish Council, BBOWT are keen to hear about flora-rich verges near you and of any concerns you may have about changes in verge management. Please contact Simon (simon_c@bbowt.org.uk) to find out more.
---
Introducing George – our very own therapy rabbit!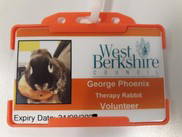 Isn't it great when a colleague can be a calm and reassuring presence without even saying a word! 😊
Everyone, we'd like to introduce you to George. 👋
A regular attendee at the Phoenix Centre in Newbury, George the therapy rabbit is not only a popular member of the team but a true professional, bringing joy to our staff and clients. 🐇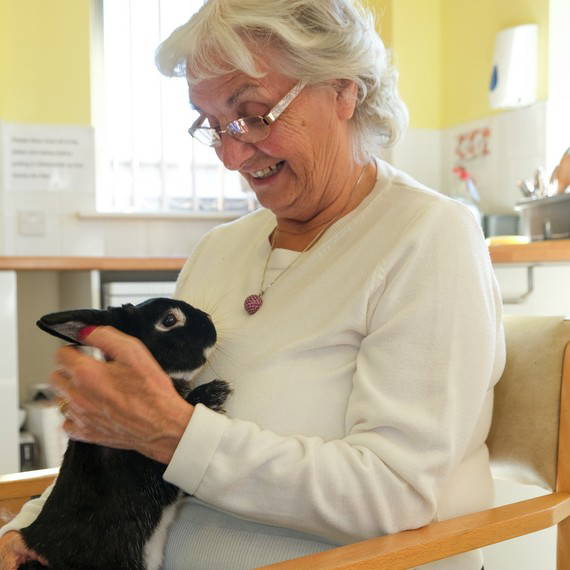 ---