'Celebrating the outstanding achievements of adult learners'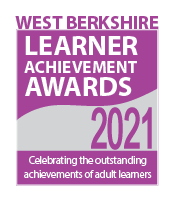 The West Berkshire Learner Achievement Awards are now open for nominations. 
These annual awards celebrate the success of adult learning in West Berkshire covering apprenticeships, professional, academic and vocational courses and learning programmes to support families, communities and health and wellbeing.
Please note to qualify for an award the nominee must have been engaged in learning since September 2019, aged over 19 years when they started their course and lives, works or volunteers in West Berkshire.
There are eight award categories and each winner will receive a cash prize of £100 (£250 for groups). Award winners will be invited, with a guest, to the presentation ceremony at Shaw House, Newbury on Friday, 12 November at 5.30pm.
The Learner Achievement Awards are part of Lifelong Learning Week, a national celebration of adult learning that takes place in November each year.
Organised by West Berkshire Council on behalf of the West Berkshire Community Learning Partnership, the awards are sponsored by Newbury College, West Berkshire Training Consortium, and the Newbury Community Resource Centre.
Make an online nomination here, or download a 
 PDF form [970kb]. For further information contact the community learning team on 01635 519060 or email: aclteam@westberks.gov.uk
Nominations close on Friday, 15th October at 5pm.