Plan B restrictions ending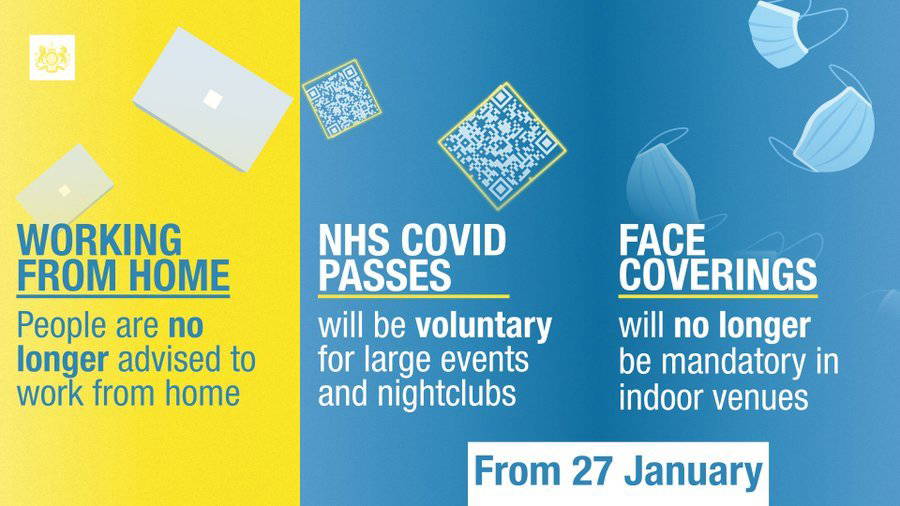 From this Thursday, 27 January, the existing Plan B restrictions will end, meaning;
You will no longer need to use your Covid Pass to enter larger venues, though some may still use the system voluntarily to help protect you and their staff.
Face coverings will no longer be mandatory in indoor venues, such as shops and hairdressers.
Last week the advice changed on working from home, if you have spoken to your employer, you can stop working from home.
However, cases are still high, and Omicron is very transmissible indoors and with low ventilation. If you can, please continue to wear a mask when in enclosed environments or visiting vulnerable people. 
---
Keep Testing and Reporting
Even though restrictions are lifting, please don't forget to keep testing, especially when you are going somewhere to meet different people indoors or meeting someone more vulnerable and at risk.
Taking lateral flow tests regularly when you don't have symptoms helps stop Covid-19 from spreading.
We also need to know your test result. Remember to report your result:
whether it's positive, negative or void
every time you take a test
as soon as possible after your result
Reporting your result enables the NHS to understand more about the virus, how it spreads, and its long-term effects on our community.
Lateral Flow Tests are for those without any symptoms; please book a PCR test at a testing centre or order a home testing kit if you feel unwell.
You can order Lateral Flow Test online, or collect from local pharmacies.
---
Vaccination Clinic at Strawberry Hill
It's never too late to start the vaccination process, but sometimes fitting it into your life can be difficult.
Strawberry Hill has a special vaccination clinic on Wednesday 26 January, to help you get your first, second or Booster vaccination. It is quick and easy, and you don't have to be registered there to get your vaccination.
They are open for adults aged 18+, between 9.30am – 1.00pm and 1.30pm – 5.30pm.
They also have clinics for children aged 12 and over between 3.30pm and 6.30pm.
Remember you need 12 week gap since your first, or second dose and 28 days since any positive Covid-19 test.
You can book online via the NHS website or just drop in to get your jab.
---
Rules on Isolation and completing Test & Trace
Over the past few weeks, the rules have changed on self-isolation, and how the process works, we hope that this graphic makes it easier to understand and follow.
If you have a positive result, you will be contacted by NHS Test & Trace. You can complete this online once you have your initial email or text message; this can save time for you and your whole family, so please consider completing the 'digital journey' rather than waiting for one of our team to contact you.
---
Testing at the Kennet Centre
Our Assisted Testing Team will be at the Kennet Centre this week to support residents, give advice on how to complete your tests, and provide more general information on Vaccinations and Boosters.
With kits in such short supply, they are currently not giving out packs but providing assisted tests only. These are great if you are unsure how to complete the tests, plus they do your test and then give you the result in 30 minutes.
You can find the testing team on:
Tuesday 25 January – 9.00am to 12.30pm
Thursday 27 January – 9.00am to 12.30pm
Friday 28 January – 9.00am to 12.00pm
If you are visiting your GP, hospital or vaccination centre or any healthcare setting, please take a Lateral Flow test if possible before attending.
---
and finally,
Tonight, at 6.00pm, the Local Outbreak Engagement Board will be meeting to discuss the current situation with Covid-19 across West Berkshire.
You catch watch the meeting on YouTube to see how the Council is working to protect you and our community.