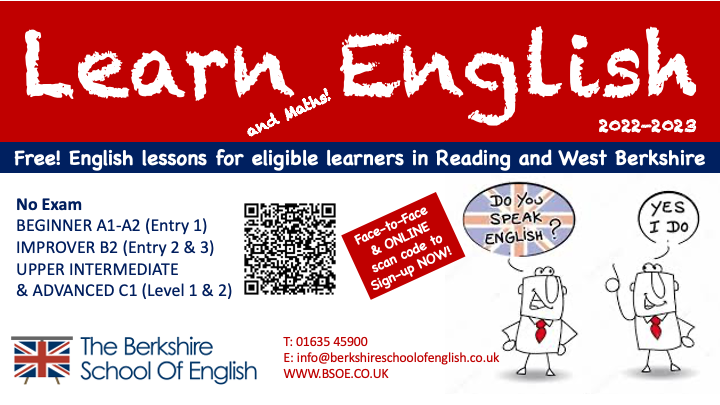 Welcome to Berkshire School of English Community Learning 2022-2023
We are delighted to launch our ESOL, English and Maths courses for 2022-2023.
Courses
Courses run throughout the year, online and face-to-face. Face-to-face courses take place in public buildings like schools, the library, Town Hall, or Family Hubs.
What to expect
Our courses bring the English language to life through motivating, up-to-date, weekly, topic-based lessons.
Lessons are delivered 'live' online or face-to-face by our fully qualified English language teachers.
We use traditional language teaching methodology together with innovative digital technology to generate a fully immersive language learning experience.
Learners develop and improve their reading, writing, speaking, listening and essential grammar skills. These can immediately and confidently be used in everyday, real-life situations.
We have different courses for everyone at all levels.
No Exam
BEGINNER A1-A2 (Entry 1)
IMPROVER B2 (Entry 2 & 3)
UPPER INTERMEDIATE & ADVANCED C1 (Level 1 & 2)
Better English means more opportunities, apply and register with us today!
Progression
We believe in real English for real lives and work. Our courses recognise language that really matters to learners. We focus on the individual's personal achievement and progression.
All courses support learners into Further Education, training and employment with emphasis placed on the literacy, language and digital skills needed to fully understand and engage with the local and wider community.
Eligibility
Most of our courses are FREE. Learners need to live in Reading or West Berkshire and to be UK Citizens, hold Settled Status and be entitled to UK Public Funds. We will need to see Biometric Visa and proof of address. Asylum seekers need to have been resident in the UK for six-months before applying for a course. Learners who are unsure can contact us for more details.
We hope you can join us and look forward to meeting you soon.
Best wishes
Clare Middleton