---
Headline News
Newbury Town Centre Masterplan adopted
The Newbury Town Centre Masterplan has been adopted. Developed by a multi-disciplinary team of consultants, it looks at futureproofing the town centre and transforming it into a 'multi-purpose' space that makes the most of the canal, the historic buildings, the quirky Lanes and Yards and the growing number of independent shops and cafes that help to attract more visitors who will then spend more time in the town.
In early 2021, over 4000 people responded to the first public survey to give their views Newbury's strengths and weaknesses and the vast majority of these were welcoming change. This led to the development of a draft Vision and Spatial Framework for the town centre, which places the concept of the 'Crossroads' at its heart, and aims to ensure that as Newbury responds to the need for change, it remembers its market town heritage, and remains a focus for social interaction, economic growth, civic engagement and community activities.
This vision was endorsed and further refined following a second online survey and public engagement session in July 2021, during which over 1,000 responses were received.
The Masterplan document includes baseline assessments, the vision, spatial masterplan and strategies for 'public realm and movement' and 'branding and events' as well as a delivery strategy which looks at short term wins including plans for the Wharf and shop fronts on the high street. It also includes long term plans for more green spaces in the town centre.
We're thrilled to also have endorsement from Newbury Town Council; who said 'We're looking forward to West Berkshire Council to deliver the objectives of the Masterplan'.
Have a look at the masterplan document and FAQs below to find out more.
---
ARG Challenge Fund Applications Now Closed
The Additional Restrictions Grant (ARG) Challenge Fund is a new scheme from West Berkshire Council offering local businesses the opportunity to bid for grant funding to pay for a project that will contribute to the recovery, growth and resilience of the business in an environmentally-friendly way. The purpose of this is to provide direct support to businesses and the economy by stimulating green growth and recovery from Covid-19.
We're delighted to have received over 100 applications for the ARG Challenge fund from businesses across the district. We will be distributing the successful funding in the upcoming weeks.
If you're a businesses looking for similar initiatives, take a look at our business grants and funding page.
---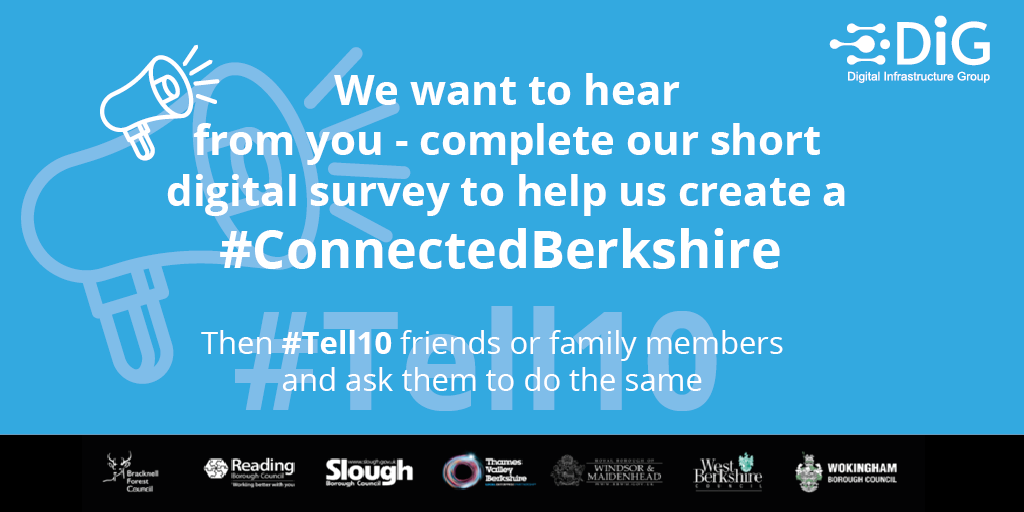 Berkshire Digital Infrastructure Group launches 'digital' survey for Residents and Businesses
The Berkshire Digital Infrastructure Group, that represents all 6 Local Authorities in the region, have launched their first 'digital' survey. The survey started on Monday 7th March and will run for 5 weeks.
The short survey is aimed at looking at digital infrastructure, such as broadband and mobile, and how it is used across the region.
They want to know things like, what you use the internet for mostly at home, how does what you do at home and work differ, or what challenges do you have when using digital technology.
Your voice is really important in helping the Berkshire DIG improve connectivity across the region.
---
Business Updates
Living with Covid – what it means for Businesses
Following the publication of the government's Living With COVID-19 plan, businesses will see some changes to the legal obligations they have to follow. The main changes can be found below, see the published document for more information
Businesses and other organisations
Employers and businesses have also taken significant steps over the pandemic to
mitigate the risks of COVID-19 within their settings. The Government has lifted the
majority of legal requirements on businesses, and continues to provide 'Working
Safely' guidance setting out the steps that employers can take to reduce risk in their
workplaces.
From 24 February, workers will not be legally obliged to tell their employers
when they are required to self-isolate. Employers and workers should follow
Government guidance for those with COVID-19.
From 1 April, the Government will remove the health and safety requirement
for every employer to explicitly consider COVID-19 in their risk assessments.
The intention is to empower businesses to take responsibility for implementing
mitigations that are appropriate for their circumstances. Employers that specifically
work with COVID-19, such as laboratories, must continue to undertake a risk
assessment that considers COVID-19.
From 1 April, the Government will replace the existing set of 'Working Safely'
guidance with new public health guidance. Employers should continue to
consider the needs of employees at greater risk from COVID-19, including those
whose immune system means they are at higher risk of serious illness from
COVID-19. The Government will consult with employers and businesses to ensure
guidance continues to support them to manage the risk of COVID-19 in workplaces.
---
Budget 2022-23
West Berkshire Council's recently approved Budget for 2022-23, which will see significant investment in local services and infrastructure.
The plans, which were presented at the Council's annual Budget meeting, contain a range of commitments to enhance and maintain the services on which residents rely, including new spending on schools, transport and other infrastructure to promote post-pandemic recovery and renewal.
This includes £52 million of investment in new and improved educational facilities across the district, £12 million on leisure facilities and more than £80 million to improve local infrastructure. This includes a range of new schemes, for example, enabling longer opening times at Newbury Lido, investment in play and recreational facilities and the upgrade of Theale railway station.
This investment will be paid for in part by an increase in Council Tax of 4%, which is almost 2% less than the maximum rise available and includes a 3% precept for Adult Social Care, the council's greatest area of expenditure. This equates to an additional £1.22 per week for a Band D property.
---
Statement on Ukraine 
West Berkshire Council stands with the people of Ukraine and has the made the following statement:
"Our thoughts, prayers and sympathies are with the people of Ukraine at this difficult time. The disturbing events of the last few days have been felt across Europe, the world, and also here in West Berkshire.

"We are proud of our history of supporting refugees in West Berkshire and we stand ready to offer assistance again as and when it's required."
---
Save the Date
---